Wellbeing
Newsletter
Each month, in line with the monthly Pin Board, a wellbeing newsletter will be being distributed with lots of updates! We'd love to hear your feedback on this so please contact Louise Kiernan with any suggestions or improvements to be made. We hope you enjoy the first edition!
Coming soon!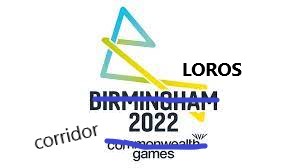 To support the upcoming events in Birmingham this year, please look out for-
The LOROS Commonwealth Corridor Games!
Fun! Team work! Prizes!
July 4th- August 8th
WATCH THIS SPACE!
#WellbeingWednesdays
Every Wednesday there will be a new video uploaded for #WellbeingWednesday! Follow this link to catch the latest videos on the Move Breathe Achieve channel.
Cycle to work scheme
The Evans Cycles Ride-to-Work scheme allows you to take full advantage of the Government's Cycle to Work initiative! Please find attached an employee guide and list of partner stores for further information. For further support and information on the cycle to work scheme please contact Wayne Matts.
Lead, Connect and Care Festival
The Leicester, Leicestershire and Rutland (LLR) system Health and Wellbeing team is pleased to invite you to the second 'Lead, Connect and Care' Festival, taking place during World Wellbeing Week between 21st-25th June 2022. The festival will bring together professionals from health and social care, the emergency services and the charity sector to celebrate and explore the very best in leadership development, quality improvement and health and wellbeing. 
The event will include sessions and workshops from expert speakers, in addition to a variety of health and wellbeing activities designed to improve your physical, mental and emotional health.
For more details on the festival schedule and to book tickets please follow this link!
Recognition of Patient and Carer Psychological Needs Course
As mentioned last month, further course dates have been added in addition to the information provided in the March Pin Board.
We have now received some wonderful feedback on this:
Please contact Valerie Olivant if you are interested!
Unicorn Update
Compliance:
Clinical Staff – 98%
Non-Clinical Staff – 95%
Renewing your mandatory training modules:  The issues with the modules on Unicorn have now been resolved so if you have any training that is overdue or due very soon, please can you ensure that you complete this asap.  Thank you all for your patience with this problem.  If anyone does have any issues with any of the learning, please do let me know.
New APP
There is a new APP for Unicorn (please note the changed logo since the last pinboard).  It's called Access Learning and can be found in the play store.  You can delete the old APP (Learning Path) which will no longer work.  Access Learning is much more user friendly and you can do much more on the APP than previously so well worth downloading.
PDR forms: Your PDR is now completed through Unicorn.  You will find your PDR form within your outstanding activities.  You will find some guidance for completion of the forms by following this link.
Probation review paperwork: I have been working on setting up the probation review paperwork on Unicorn and this will soon be ready to launch.  This helps LOROS to move a step closer to becoming paperless and will be used with all new starters going forward.
Personalised Care Plans for SystmOne: This training module is now available on Unicorn.  If you are required to complete this learning, you will find the module within your outstanding activities area.  Please make every effort to complete the learning by the due date.
LOROS SystmOne & Smartcard T&Cs:  I am in the process of adding this to Unicorn for Smartcard users to read and sign off to say they will adhere to the T&Cs.  If you are a Smartcard user, the form will be added to the outstanding area of your profile in due course.  Please keep a look out for the form and read and sign off asap.  This form will be added to your profile on an annual basis in April each year.
If you have any ideas of activities that you would like adding to Unicorn or if you would like to give any feedback of your experience of using Unicorn – good or bad, please email me and let me know.  All feedback will be gratefully received.
Training and Development Opportunities for LOROS Staff and Volunteers
As part of LOROS' commitment to excellence and development for the workforce (staff and volunteers), I wanted to share with you our newly developed internal training plan. The activity included in this plan is reflective of feedback from PDRs, as well as requests from heads of departments. If you have further suggestions for what you would like to see included, then please email us.
Activity in the plan has been split into five areas:
·        Leadership and Culture
·        Specialist Areas
·        Transactional Skills
·        HR Skills
·        Clinical Development
We ask that you complete a study leave form for all activity that you wish to attend on Unicorn.  The guide for how to complete this form can be found here.
Please note – you will not be able to attend sessions if you have not completed a study leave form and registered.
This will ensure that your line manager is aware of your attendance. This system is now automated and as such we expect and hope that it will be much less cumbersome and much more reliable than the processes that were in place pre-covid. If you have any feedback on how this process could be improved, please email lpdc@loros.co.uk.
Once your study leave has been approved, you will be sent a link which will enable you to register onto the session.
Please ensure that if you do book onto an activity and are no longer able to attend, that you let us know – we have enabled waiting lists.
The training plan can be accessed at - Staff and volunteer training plan (loros.co.uk) and hard copies will be available for ward / Enterprise staff.
Thanks to all staff who have been involved in the development of this plan, either in terms of delivery or in setting this up behind the scenes.
Happy learning – and as ever, all feedback welcome.